Map of Ipoh- Malaysia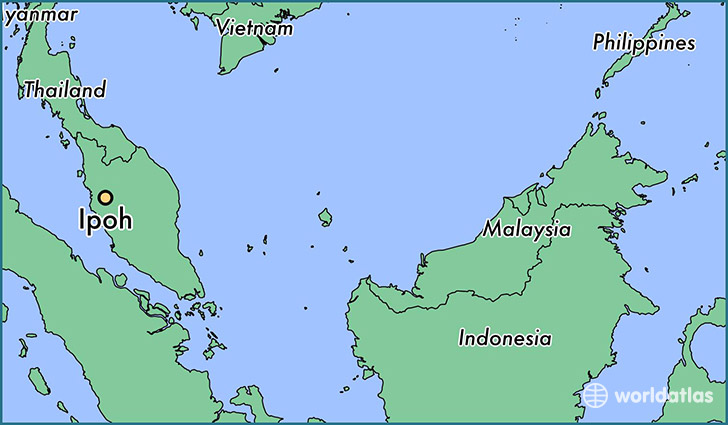 Ipoh is the capital city of the state of Perak, Malaysia and also the third largest city in the country. It is approximately 200 km (120 mi) north of Kuala Lumpur and 130 km (81 mi) south of Penang on the North-South Expressway.
It is bordered by Batu Gajah in the west, Cameron Highlands in the east and Simpang Pulai in the south.
Ipoh's old world charm and booming hipster cafes has impressed the largest travel guide book publisher in the world, Lonely Planet, after the city was listed as one of the best Asian destinations to visit in 2016. Ipoh is the only city in Malaysia to be listed, at sixth place.
Population: 657,892 (2010)
Language
Like in the rest of Malaysia, Malay is the lingua franca, However, most of the ethnic Chinese, who form the majority in Ipoh, speak Cantonese as their first language, and many are also able to speak Mandarin. Most of the Indians speak Tamil as their first language.
Currency
The Malaysian Ringgit is the currency of Malaysia. Our currency rankings show that the most popular Malaysia Ringgit exchange rate is the MYR to USD rate. The currency code for Ringgits is MYR, and the currency symbol is RM. Below, you'll find Malaysian Ringgit rates and a currency converter.
Geography
Ipoh is in the state of Perak, which is in the northern part of Peninsular Malaysia. The city is in the middle of the Kinta Valley, on the bank of the Kinta River and the confluence of smaller rivers, Sungai Pinji and Sungai Pari. The city is surrounded by limestone hills, which can be found around suburban areas to the northeast, east and southeast.
The Kledang mountain range stretches from the north to the west of the city. This range runs parallel to the Bintang mountain range with the Perak River flowing on its left bank and the Kinta River to its right. This range is interrupted to the north of Ipoh by a tributary of the Perak River called the Pelus River, which is sourced from the Titiwangsa mountain range, which runs to the east of Ipoh.
Climate
Ipoh features a tropical rainforest climate. Temperatures are about the same throughout the year, showing little variation. The city's average temperature is 28 °C (82 °F). Ipoh sees high precipitation throughout the year with an average of 200 mm (7.9 in) of rain each month and averaging 2,427.9 mm (95.59 in) of rain per year. The wettest month is October where on average 297.2 mm (11.70 in) of rain is seen. Ipoh's driest month is January which has 132.3 mm (5.21 in) of rain fall on average.
Cuisine
Ipoh has a vibrant food scene with a vast proliferation of hawker centres and restaurants. It is well known for dishes such as "Sar Hor Fun" (Chinese: 沙河粉) a complete one-dish rice noodle meal with prawn, meat, fish, vegetables and a savoury sauce. Other dishes from Ipoh include "Hor Hee", flat white rice noodles served with fish cakes and/or fish balls, "Nga Choi Kai" (Chinese: 芽菜鸡), chicken with soy sauce and beansprouts topped with pepper,"Kai Shi Hor Fun" (Chinese: 鸡丝河粉) rice noodles with Chicken, "Hakka Mee" (Chinese: 客家麵), yellow rice noodles served with mince meat (pork) sauce, and Ipoh's famous pastry "Heong Peng" (Chinese: 香餅), literally translated to "fragrant biscuit". The city is well known in Malaysia for its "Ipoh white coffee" where the coffee beans are roasted with palm-oil margarine and the resulting coffee is served with condensed milk. Ipoh is also famous for its fresh fruits such as Pomelo, Durian and Seedless Guava. In recent years Ipoh has seen an increase in international restaurants, bars and gastropubs have become popular with locals and tourists.
Transportation
Trunk roads: The old interstate Route 1 connects Ipoh with other major towns and cities in peninsular Malaysia, for example to Alor Setar, Taiping and Penang to the north and Tapah, Kuala Lumpur, Seremban and even Johor Bahru in the south. Motorists from the east coast can use highway 4 (from Gerik) in northern Perak or 185 (from Cameron Highlands).
Highway: The new North-South Expressway E1 is a faster and more efficient alternative to Route 1. However, certain towns like Kampar can only be accessible via Route 1.
Train: Ipoh's railway station is operated by Keretapi Tanah Melayu (KTM) and is in the Old Town (however, it does not have intra-city travel like in Kuala Lumpur). The railway only connects Ipoh with neighbouring towns and cities. The station is a stately building, referred to by locals as the 'Taj Mahal' of Ipoh. KTM Intercity began the Shuttle Train Service between Kuala Lumpur and Ipoh from 1 December 2008 while the modern Electric Train System (ETS) shuttle began from 12 August 2010 with average 145 km/h (90 mph) speed, plying Ipoh-Seremban route, cut the travelling distance between Ipoh and Kuala Lumpur into 120 minutes. There are 10 dedicated shuttle train services between these two cities daily which begins at 5 am from both the stations. Travel time between the cities was expected to be reduced from three hours to two hours and fifteen minutes when the new set of EMU trains arrived in mid-2009.
Bus: The inter-city bus terminal is located at Amanjaya Integrated Bus Terminal in Bandar Meru Raya, just north of the city.
Air: the Sultan Azlan Shah Airport is the only airport in Ipoh. It is near Gunung Rapat. Domestic flights and international ones are available. Tigerair provides four flights weekly out of Ipoh to Singapore Changi Airport. Firefly provides two daily flights out of Ipoh to Singapore Changi Airport as well as Johor Bahru while Malindo Air provides daily flights to Johor Bahru, Medan and Kuala Lumpur-Subang.